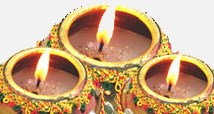 Deepawali or Diwali is one of the biggest festivals of Hindus in India, which falls in the month of 'Ashwin' (Ashwayuja) and is celebrated with lots of enthusiasm. It usually occurs in October or November. The Lights signify victory of good over the evil within every human. This festival is also called as Deepavali, Tihar and Swanti (
in Nepal
) and it is also one of the important festivals of
Jains, Sikhs and Buddhist
.
This festival is celebrated for
five continuous days
, with the third day being celebrated as the main Diwali or as '
Festival of Lights
'. Every house and street is decorated with lamps and lights on the day of Diwali. All the illumination and fireworks, joy and festivity, signifies the victory of divine forces over those of wickedness. Diwali symbolizes the victory of righteousness and the lifting of spiritual darkness. The festival is celebrated by young and old, rich and poor, throughout the India to dispel darkness and light up their lives. It also symbolizes unity in diversity of the country as every state celebrates it in its own special nature.

The first day of Diwali
called Dhanteras and this day people buy jewellery, silver and gold coins.
The second day
is called Roop Chaudas and this day people bath with Uptan.
The third
is the main Diwali day and the idol Lakshmi is worshiped to seek divine blessings of Goddess of Wealth (Lakshmi Puja). It is an age old belief that Goddess Lakshmi visits well decorated homes during Diwali to bless and help devotees prosper. Lakshmi puja in Gujrat lasts for five days which starts with Dhanterash, the worshipping of wealth. In Bengal on this day Kali Puja performed.
Fourth day
is celebrated as
New Year according to Hindu calendar
.
The fifth day
is called as Bhaiya dhuj and is celebrated on glorifies love between a brother and a sister.
There are several beliefs regarding the origin of the holiday. It is believed that on the day of Diwali, Lord Ram and Lakshman returned to his Kingdom Ayodhaya after from a 14 year exile and victory over the demon king Ravana.

In Southern India, another legend describes the victory of Lord Krishna over the demon Narakasura. In western India, it is celebrated in the honour of the King Bali (Padva or BaliPratipada) who went to rule the nether world by the order of Lord Vishnu.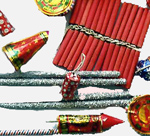 People exchange a lot of gifts between each other. Families and friends alike
give and accept gifts like
sweets, puja thalis, dry fruits, homemade chocolates, diyas, candles, wall hangings, decor items, gift hampers, jewellery, apparel, flowers, bhai dooj gifts and also give corporate gifts like hampers, gift baskets, designer gift boxes, pen sets, cameras, watches, perfumes, mobile phones, and so on. Through these gifts, people get a chance to share their feelings of care, love, affection and happiness with each other. The other major excitement for Deepavali is the
bursting of crackers and fireworks
.
It is also the beginning of the new financial year for the business community. Lots of people also start new ventures on this day after performing Lakshmi Puja. This is marked by lighting of lamps, candles and diyas by the women folk in the family.